Biography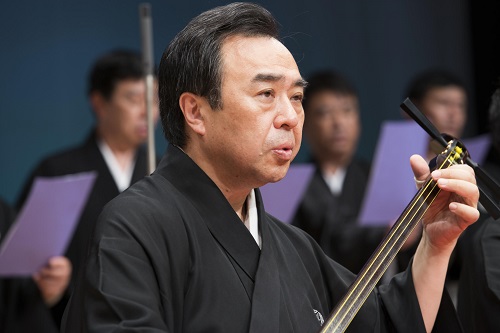 Born in Tokyo in 1952. Real name: Seiichiro Todo
Learned Tokiwazu-bushi from his father, Tokiwazu Mojizo the 4th, and Tokiwazu Kikusaburo
Learned Nagauta( Japanese Classical Music) from Yoshiko Tajima and Shamisen (three-stringed Japanese instrument) from Ken Minagawa
Education: Tokyo University of the Arts Music Department
Studied musicology under Fumio Koizumi and learned Itchu-bushi under Miyako Itchu Ⅺ

1981 Succeeded to Tokiwazu Mojizo II name
1985 Awarded the 1st Artistic Work Prize by the Agency for Cultural Affairs
1986 Promoted to Tokiwazu-bushi Tate Shamisen (principal player) at Kabukiza Theater
1990 Received Seieikai Public Interest Incorporated Foundation Encouragement Award
1991 Succeeded the name of Miyako IchichuⅫ and inherited Souke, the head of the Itchubushi School
1999 Certified as a holder of Important Intangible Cultural Property Ichichu-bushi (general designation)
2008 Certified as a holder of Important Intangible Cultural PropertyTokiwazu-bushi (general designation)
2014 Received Japan Art Academy Award

He was invited to perform at international music festivals in Germany and Austria.
He was invited by the Japan Society in New York and Boston to give concerts in cities on the East Coast of the United States.
In addition, he gave lectures and performed at universities such as M.I.T., Yale, Wesleyan, Colorado, Beijing, and Berklee College of Music.

Director of Miyako Itchu Institute of Music and Culture 
Councilor of Kokyokukai General Incorporated Foundation, Director of Tokiwazu Asociation, Chairman of Itchu Bushi Miyako-kai, and Tokiwazu Hyakusenkai.

As Miyako Itchu XII,  Souke, the head of the Itchubushi School, inherits the highly sophisticated aesthetic sense of Itchu-bushi, which is said to be a classic among classics. He instructs his disciples and performs in Japan and overseas to meet the demands of today's leading-edge sensibilities.
He is pursuing the way forward for Japanese musical art in the future.

As Tokiwazu Mojizo II, he is working to create new value in the performance of Tokiwazu itself by making the best use of the characteristics of Tokiwazu-bushi as Shosagoto-Jōruri' (storytelling and dance drama), embodying the grace and elegance of Edo culture.